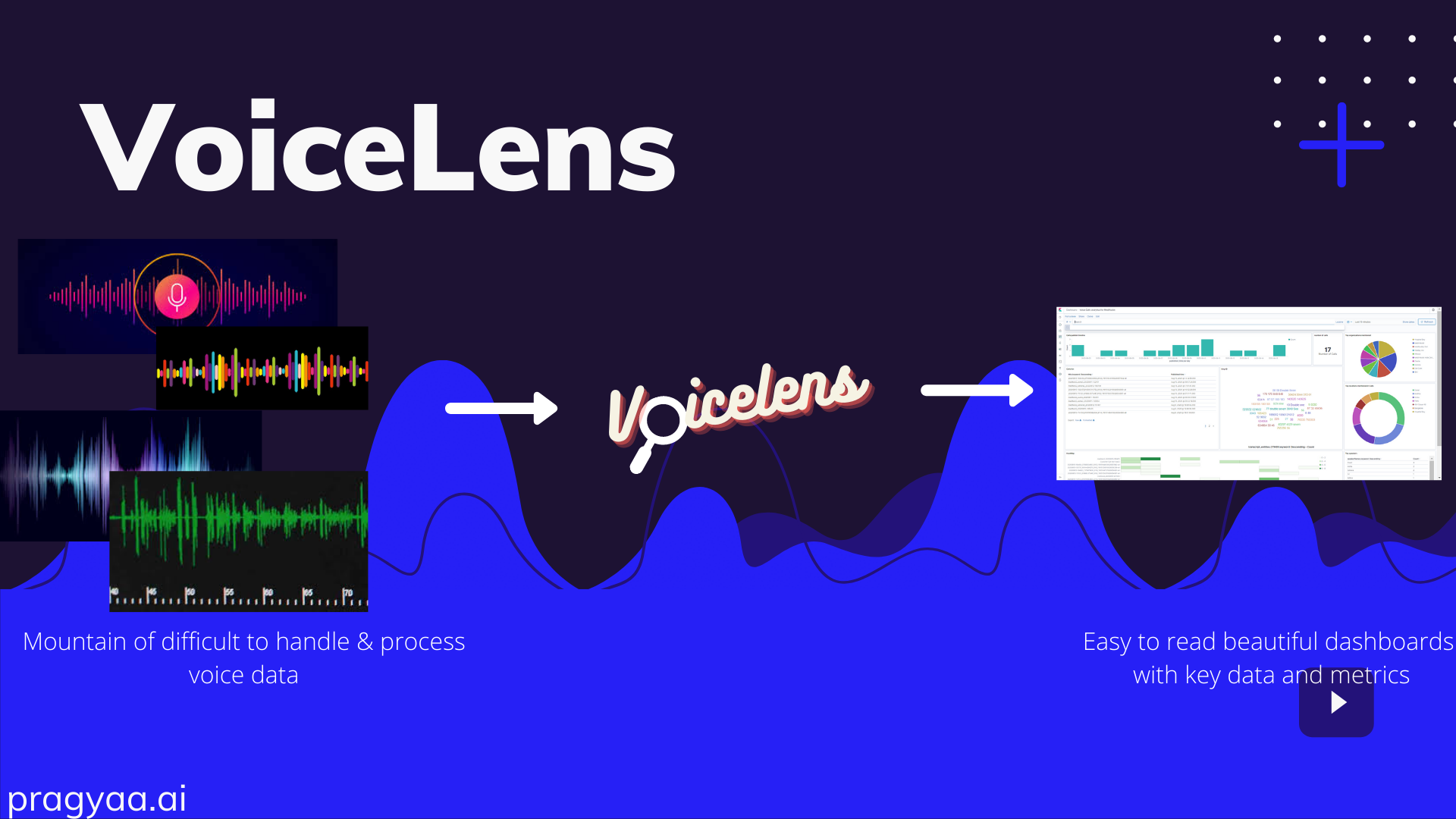 pragyaa.ai offers two products under Voice Analytics, which can be used as standalone products for specific use cases, or joined together like "Lego blocks" for a more comprehensive Voice Analytics solution covering multiple Voice Analytics use cases.
VoiceLens
In any enterprise, Voice captured via different interface like Customer Care, Front Desk etc. , has been one of the biggest source of enterprise data. Traditionally it has been very difficult to process this data as Voice has to be processed and analyzed manually to extract any actionable insights from this source of data. Now with VoiceLens, mountains of Voice files like call recordings, podcasts etc can be converted into easy to read, beautiful dashboards with configurable metrics and actionable insights
Now can enterprise can setup automated processes to pull 100% of its voice interactions data, run it through an automated AI workflow to create error free transcripts, mine for key entities, utterances, and customer sentiments. Human oversight of transcribed data can be enabled via a custom web based interface , to allow for key industry specific terms or difficult transcribe words to go through human review to allow for an AI workflow that learns over time and gets better and better with more data. This data can be configured to automatically populate a dashboard at defined time intervals to give an upto date , accurate picture of key customer top of mind issues and concern areas. 
converseAI
converseAI is an onmi channel cloud based conversational AI solution. It allows users to have a contact center in the cloud, so that they are not tied down with location or landlines to answer their customer queries from anywhere via a web based phone and chat interface. For the customer call-in number, you have a choice to configure a normal call-in number or a toll free call-in number.  
converseAI is powered by AI speech analytics, so the solution provides customer insights in real time, and helps agents and supervisors better understand and respond to customer needs so they can resolve customer issues and improve the overall customer experience. The solution includes pre-trained artificial intelligence (AI) services that enable users to transcribe, translate, and analyze each customer interaction, and presents this information to assist contact agents during their conversations. It also features an intuitive visual dashboard to visually see customer sentiment during a call, real time transcriptions, translation and suggested actions to contact agents. 
The solution performs real-time speech recognition and create a high-quality text transcription of each call into text; analyzes the interaction, to detect the sentiment of the caller, and identify keywords and phrases in the conversation; and to translate the conversation into an agent's preferred language. You can use the transcribed information with your knowledge management and customer relationship management (CRM) systems to suggest responses or recommended solutions to better respond to the caller's needs. Additionally, the solution stores the original audio files and conversation transcripts for later review or analysis. These can be paired with our VoiceLens solution to create beautiful and easy to read customised dashboards to gain key customer insights. 
 As is seen from more and more customer interactions, customers are starting to prefer chat as a mode of interaction with enterprises and service providers compared to phone calls. converseAI also features intelligent chat functionality, that allows your customers to start a chat with an agent or an intelligent bot, step away from it, and then resume the conversation again. They can even switch devices and continue the chat. It's an asynchronous interaction.  
Example of an intelligent chat scenario 
Suppose a customer and agent are chatting, but then the customer stops responding to the agent. The agent asks "Are you there?" and doesn't get a reply. The agent leaves the chat. Now the chat is no longer associated with an agent; your contact flow determines what happens next. 
In this scenario let's say the customer eventually sends another message ("Hey, I'm back") and the chat resumes. Depending on the logic you define in the contact flow, the chat can be assigned to the original agent, or a different agent/queue. 
You can enable the chat functionality in your website, app or both.
How do I use this functionality ? 
Setting up and configuring this functionality is taken care of by us for our partners. You can send us the request via emailing us at info@pragyaa.ai. All the setup is done at our end, and we will enable a web interface for you that provides a phone and chat interface with AI powered feature provided by converseAI. In case you would also like to integrate chat functionality with your existing website and app, we will provide instructions and API details for the same. 
How much does it cost? 
This a pay as you use service. So there is no charge for setup and configuration. Once you start using the features, the service is charged on a per minute charge, billed on a weekly or monthly basis (based on account credit limits).