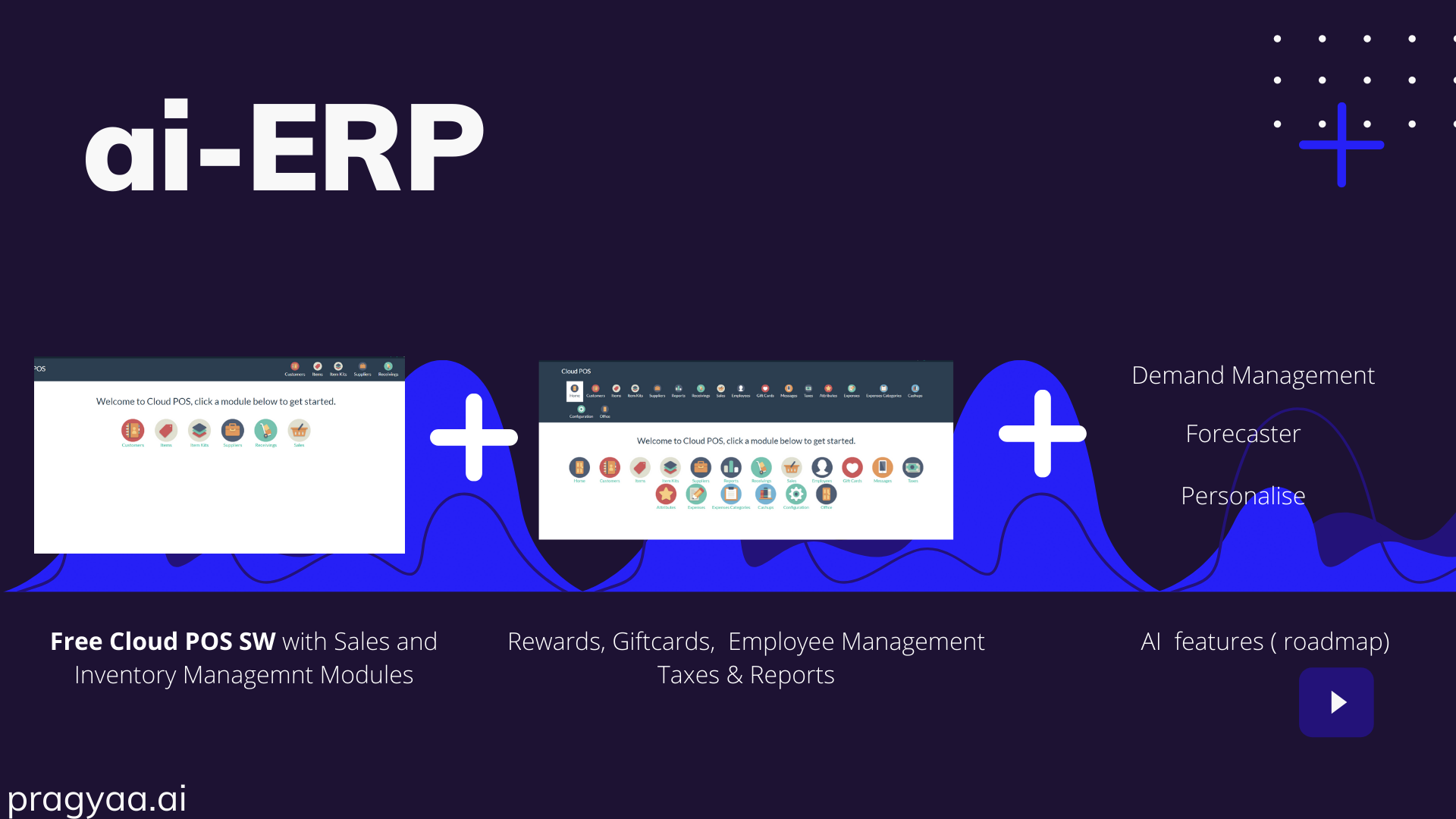 pragaa.ai ai-ERP is a versatile and flexible Cloud POS for modern retail with key features as listed below. As its fully customizable, new features can be scoped and developed as required.

Interface
• Web interface responsive, mobile and desktop view capable
• Employee access Login
• Multiuser module permission control
• captcha option to protect login page from brute force attacks
• Multi-language
• User interface Internalization
• Selectable UI theme

Employees
• Manage Employee records
• Import Employee records from CSV file
• Export Employee records to Spreadsheets

Sales
• Sales Management: Receipt
• Sales Management: Return
• Sales Management: Quote
• Sales Management: Suspend
• Sales Transactions logging
• Sales Receipt and invoice printing and/or emailing
• Receiving
• Temporary Item
• Gift card Support
• Rewards on customers
• Restaurant Tables
• Purchase Orders

Inventory
• Suppliers Management
• Items Stock Management
• Items Kits for Items groups
• Barcode support, Barcode generation
• Inventory counting
• Items Management: Category Naming and Image
• Items Management Taxation
• Items Price Management
• Managing Stock for multi-location
• Items Importing from CSV
• Exporting to Spreadsheets

Customers
• Customer Manage, including registration consent receipt
• Customer Import from CSV
• Exporting to Spreadsheets
• VAT and multi tiers taxation

Expenses
• Expenses logging by Simple and faster UI

Reporting
• Reporting on sales, orders, expenses, inventory status
• Exporting to Spreadsheets

Communications
• Messaging (SMS)
• Mailchimp integration

Printing
• Device printing
• Barcode Printing
• PDF Printing export
• Printing Item Labels

Store Office
o Store Configuration
o Regionalization
ai-ERP focuses on building AI edge for SMEs by leveraging AI feature stack on top of standard cloud based POS functionality, so that an SME can use the same tech platforms that a top global organization would leverage
AI Features

Demand Management: End-to-end support for forecasting, assortment, planning, and pricing using predictive and prescriptive analytics, AI, and machine learning.
Workforce Management: Compliant time and attendance tracking, shift- or demand-driven optimization planning and scheduling, and labor analytics.

Forecast: use machine learning to combine time series data with additional variables to build forecasts. You only need to provide historical data, plus any additional data that you believe may impact your forecasts. For example, the demand for a brand/ variant may change with the seasons and store location. This complex relationship is hard to determine on its own, but machine learning is ideally suited to recognize it. Once you provide your data, Forecast will automatically examine it, identify what is meaningful, and produce a forecasting model capable of making predictions that are up to accurate than looking at time series data alone.

Personalization: improve customer engagement and conversion by powering real-time personalized product and content recommendations, and targeted marketing promotions. Build, train, tune, and deploy a machine learning recommendation model to deliver personalized user experiences faster. Blend real-time user activity data with user profile and product information to identify the optimal product or content recommendations.

Connect with us at info@pragyaa.ai and we will get you started for FREE with industry leading ai-ERP.